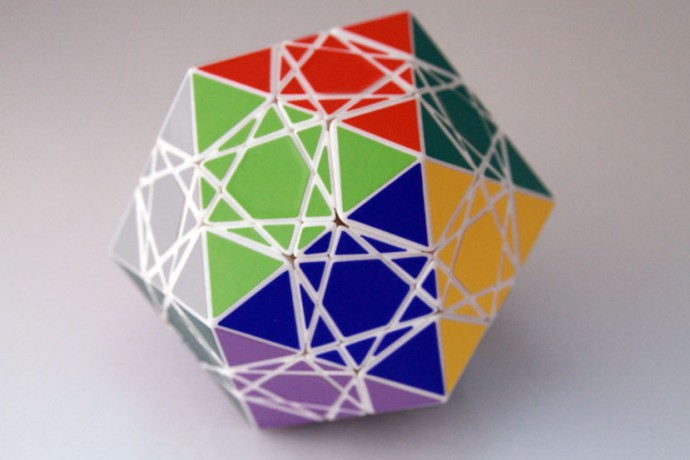 The following article is taken from the original announcement of this puzzle on TwistyPuzzles.com in 11/2012.
I'm very proud to present number seven in my series of "Radiolarians", or face turning icosahedra.
This is an even deeper face turning icosahedron than the Radio Web (Radiolarian 6). No new pieces are added for this puzzle. They are only removed as the cuts get deep enough to hide them. You could say Radio Web is an "in-between" from 5 to 7 which contains both their pieces.
But as this puzzle simplifies relative to Radio Web, it gets a really beautiful pattern.
I'm naming this puzzle based on the Jewel Spider, which has an abdomen reminiscent of the sticker pattern here. Check out the last few images to see what I mean.
Also notable, is that this design gets some nice regular triangles again, which we've missed since number 4. (Eitan's Star)
This is the second time I have attempted this puzzle, having designed and printed two separate designs.
This puzzle can jumble in two ways again, and I've included closeups below of the jumbles.
Movement quality is very good.
Thank you!