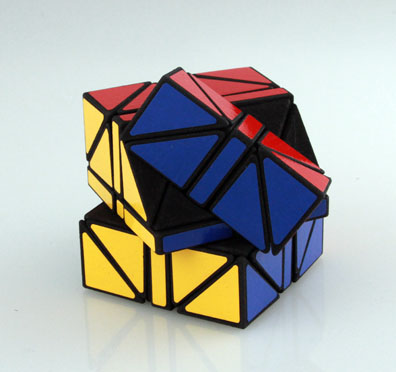 The following article is taken from the original announcement on TwistyPuzzles.com in 4/2014.
The Heritombo Cube was actually designed and printed after I started to doubt this design for a Helicotper 3x3x3 would work. After waits for a few missing parts, and a design tweak, it has turned out that I'm revealing the original design after the Heritombo Cube.
I made the cuts shallower first as an experiment, but when I saw the face pattern, I immediately started shooting for a 3x3x3 hybrid. In the event that someone makes a flat cut Helicopter 3x3x3 that doesn't use shallow cuts, I'll rename this one.
This was completely designed on a flight to China, and even uploaded to Shapeways somewhere over the Pacific.
This is now on Shapeways for $85.