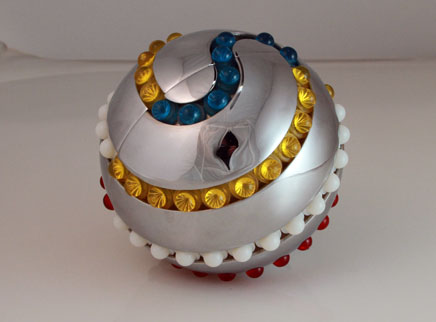 The following article is taken from the announcement of this puzzle on TwistyPuzzles.com in 7/2013.
I'm happy to present my Silver Orb puzzle. It's a higher order version of the vintage Parker Brothers puzzle "The Orb". Instead of 4 tracks of beads, it has 5 tracks. It is 3d printed in Nylon and polyJet resin, with some parts plated with copper and then with chrome by a classic car parts restoration company.
Some beads are harvested from sacrificial puzzles bought on ebay, and the white beads are 3d printed, designed to the exact same dimensions.
The rows of beads have 8, 22, 26, 22, and 8 beads. There is a tiny bit of fudging to make the bead count work. Can you see it? Would the next higher order orb need the fudging?
Highlight for the answer –> No, the next orb falls gracefully into whole numbers of beads.
Instead of the 3 midway positions the original orb can stop in, there are 4 midway positions, (only 3 are shown below), all of which combine all beads into a single row. Does this affect the solve?