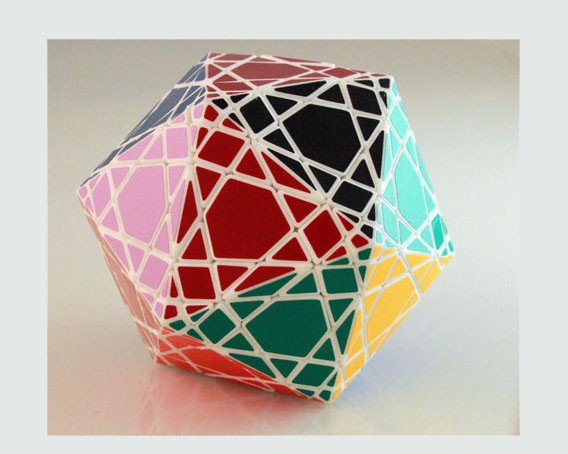 The following article is taken from the original announcement of this puzzle on TwistyPuzzles.com in 5/2013.
I'm happy to present Radiolarian 13, the Radio Gem! There are two more in the series.
This has been a very challenging puzzle to get to this point. This is the second version, and the third print. This one has been tough financially. Assembly and stickering take 8 hours.
Compared to Radiolarian 12, the deeper cuts in this puzzle have caused 60 outer parts to disappear. Unfortunately, stability is not increased much from the outer simplification, but hangups are reduced which is great!
Turning is fair, although I feel the puzzle is not as stable as it should be, so I'm very, very careful in turning, and did not make the video too long. I can feel the puzzle would be likely to pop under normal solving, and with a deep shells puzzle like this, a pop could mean the whole puzzle. I am not going to risk another long assembly at this point! It's only the long road and problems already solved to this point that makes me proud to present!