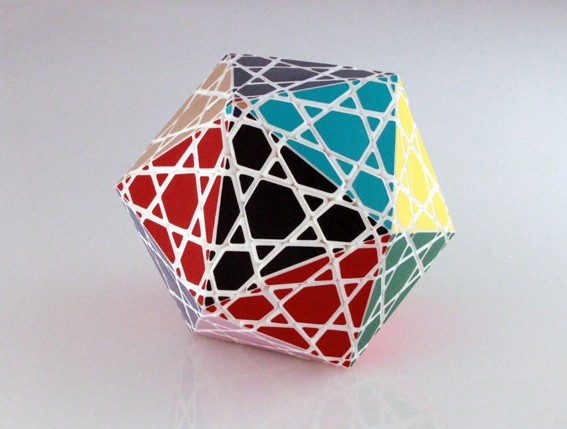 The following is taken from the original announcement in 3/2013.
After Radiolarian 10 and 11 both failed, this is a relief. Radiolarian 12 works!
This is getting very deep now, and I did not anticipate that the new corner and the surrounding star arms we gain at Radiolarian 12 would actually help stability, but they do.
Movement is fair, but after the desert I've been through, it feels Excellent!!
The main problem I have seen with the design is that the corners themselves can rotate in place by accident since they are so small. The design would have to be much larger to make them more stable. I think 2-3 times as large would work well. For now, call them trivial corners I guess!
I'd like to take this apart to apply silicone to the inner puzzles, and break-in the interior shells without being encumbered by outer shells before a video, so I'm doing that now. In the meantime, some photos!