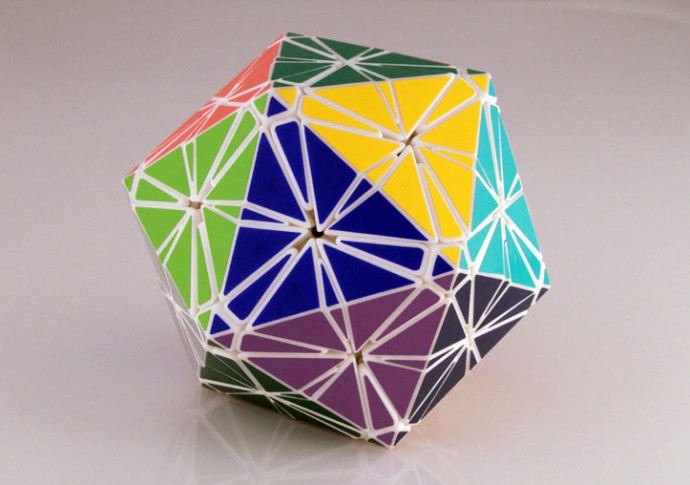 The following article is taken from the original announcement of this puzzle on TwistyPuzzles.com in 12/2012.
This is the 9th in my series of increasingly deeper cut face turning icosahedrons.
In the face turning dodecahedrons, as the cuts get deeper than a Megaminx, the centers shrink in size and the slices begin to overlap each other on the edges, creating new parts. Aleh's Brillic, also known commercially as the Pyraminx Crystal, was the first example with cuts at just the right depth to make the face centers disappear.
The Radio Crystal is a face turning icosahedron, with the same property that the cuts are at just the right depth to make the faces disappear. Surprisingly, this has already happened once before with the three faces around the turning face on the Radiolarian 2. But the cuts on the Radio Crystal are so deep that they pass another set of face centers on the icosahedron- 6 more per face! Buried beneath each hidden face center, there is a stack of centers 3 deep, one fixed to the core, and two with with holes to allow a screwdriver to reach the screws inside.
Visually and conceptually to me, this puzzle is the closest icosahedral analog of Aleh's Brillic and Praminx Crystal, so I've named it the Radio Crystal… aka Jason's Brillic.
Turning quality is very good. Criticisms from me are that it is a bit squishy due to the acute angles, and that the brillic pieces sometimes trail slightly behind a turn and have to be aligned separately.