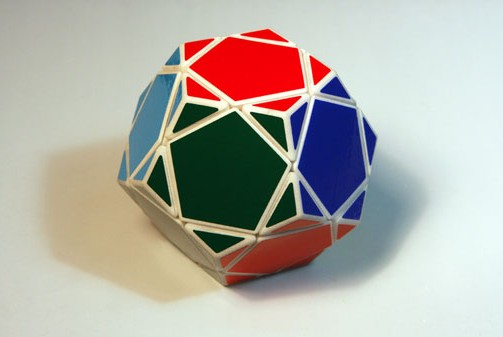 This was my second attempt at the Pentultimate.  This version worked, but it was a bit catchy.
This was my first time using the "skirting rails" mechanism.  With skirting rails, there is a master version of the puzzle on the inside made using the "void" mechanism.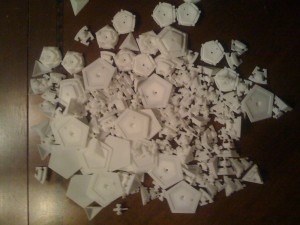 The master layer allows all the outer parts to move past each other.  The trick is keeping the master layer locked in place.  It should always be allowed to skirt sideways, but never be allowed to slide in the direction of the void mechanism tracks.
On the Pentultimate, there are 6 master pentultimate rings.  5 of these rings can be locked in place by simply gluing them to the top center face.  Here I am in progress gluing the rails in place around the top center.
Something about my camera during this period made these images soft or out of focus.  Sorry!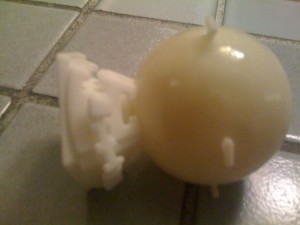 The core has special blockers on the equator that prevent sliding movement on the remaining 6th master layer.  They still allow the master layer to skirt sideways through the equator without blocking.  Thus, "skirting rails".
Here I'm testing the mate of the rails with the outer triangles.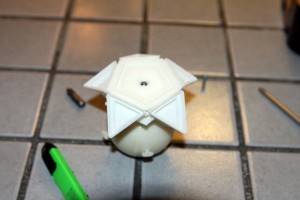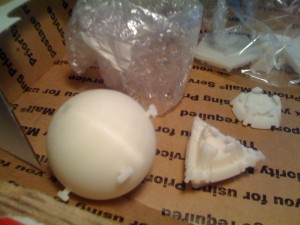 On this version, the blocker arms were very fragile.  As you will read below, they broke off and were replaced later with screws.  Version 3 was redesigned and built a few months later, and it works great.
Here you can see the equator blocker arms mating with the master layer.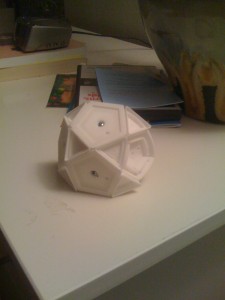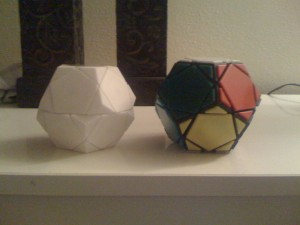 Once assembled, the fragile blocker arms broke, and I replaced them with screws, which worked just fine.  Version 3, built a few months later, was a complete success!