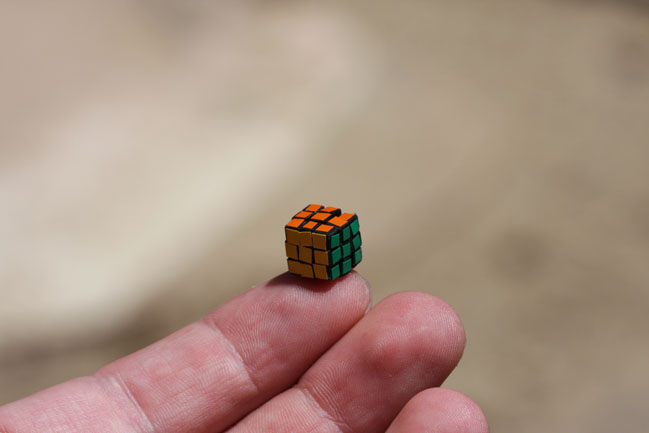 The following was posted in the original TwistyPuzzles announcement.
This terrible looking hand stickered 3x3x3 lump of playdoh-shaped ABS is 9mm on an edge. Here are some photos of the build.
At this scale, ABS is very flexible. Irritatingly rubber-like. Supports must be large, which takes away from all straight edges– you'll see. In the end, most surfaces are touched with an exacto blade. I won't work at this scale ever again, if I can help it. It just feels impossible to make a clean looking build.
The flexibility at this scale also produces "hairy" looking chips, which can be removed by brushing over them with a fingernail.
The core is made in two parts. With the very thin ABS, even screwing in the center caps could ruin the core. After 2 ruined cores, I made special jigs for gluing and driving screws. The larger jig is meant to hold the two halves together for gluing, while the smaller is cut back to allow it to be clamped while attaching 4 of the center caps. The screws are size #000.
Thumbtacks and drywall screws are included in some photos to help with visualizing scale.
Stickers were scissor-cut, and applied with tweezers. I want to scream just thinking about it.
It did work (I broke it already), so that's something. But I'm really unhappy with the lumpy look. On the bright side, I'm on to my next project!!